Geofin
June 18, 2020
2020-12-15 15:52
Geofin
Publications
Read and download our latest findings, insights and reports
on financial inclusion related issues 
GeoFin: Financial access
& agent viability in Nigeria
Financial access is a central precondition for Nigerians' ability to fully participate in the economy and benefit from its growth. The GeoFin tool provides public & private stakeholders with key data and analysis on the current level of financial access as well as opportunities and challenges for improvement.
The following pages offer a guided tour through the studies' key findings and essential analytical tools. This tour opens into a fully interactive research tool that offers more details and additional analytical capabilities. You can also directly jump to the research tool by selecting the last button on the menu to the right.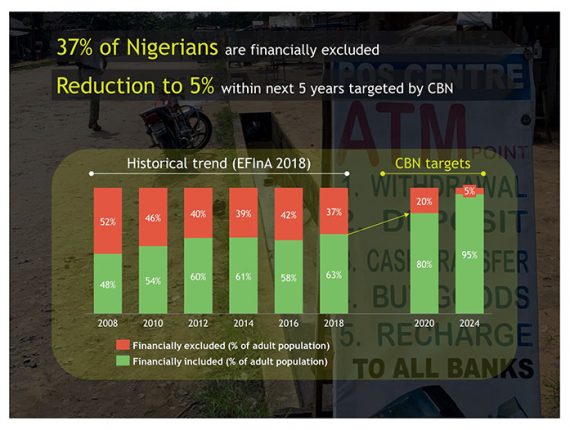 Accelerating the drive towards financial inclusion requires deep understanding of challenges & opportunities on the ground
As of 2018, more than 1 in 3 Nigerians is excluded from the financial system1. In order to close this financial inclusion gap within the next years, stakeholders need to take action aimed at the specific challenges and opportunities found on the ground.
Until now, comprehensive, reliable data on these location-specific challenges and opportunities was limited.
The GeoFin tool helps close this gap. It provides data on the current status of financial access as well as analyses of additional CICO agent needs & challenges these agents would face.
The tool is driven by high-quality geospatial data & primary research across Nigeria's geopolitical zones
​The tool integrates multiple highest-quality data sources. Its foundation is a range of detailed geospatial data across 10 dimensions, including data on population, household expenditure and other key indicators.

​To assess economic activity and other drivers of CICO viability, the tool leverages over 100,000 local points of interest, including markets, public employers, medical infrastructure, and more.

The CICO viability simulation engine, which assesses the viability of each individual projected CICO agent, is in addition based on cost & revenue data obtained during over 100 in-depth interviews across all 6 geopolitical zones.
​Across all inputs, the resulting descriptive representations, analyses and simulations offer insights at a 1 km² resolution. Differences between states, LGAs and even villages or neighborhoods thereby become visible.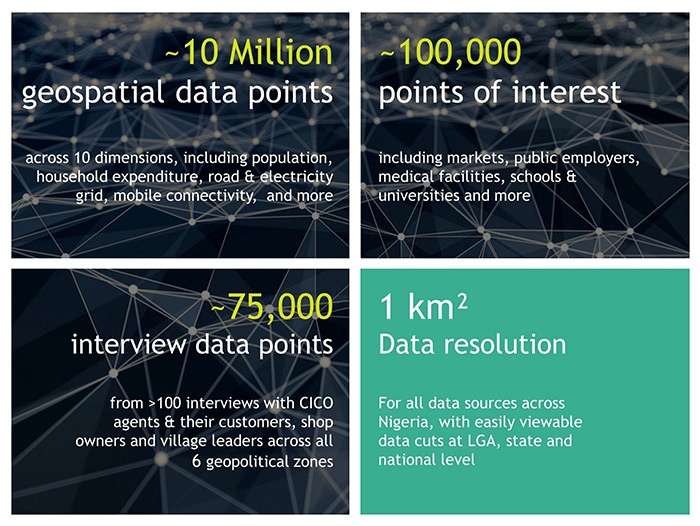 The analyses & assessments integrated here are based on 3 fundamental methodologies
The urbanicity segmentation analyses the degree of urbanicity of Nigerian settlements at a 1km² resolution. Key criteria used are population density & settlement area size, connectivity to urban centers and major roads, and economic activity indicated by POI.
The financial access analysis classifies location-specific access to bank branches, ATMs or CICO agents. Depending on the distance to the nearest financial access location, access is defined as ideal, sufficient or insufficient.
The CICO viability assessment identifies the number of additional CICO agents needed to close coverage gaps, evaluates how viable each of these agents is given expected revenues & costs, and pinpoints main drivers of unviability for each unviable agent.