Digitised Banking: Greater DFS Innovation Needed to Adequately Decongest Banking Halls
Digitised Banking: Greater DFS Innovation Needed to Adequately Decongest Banking Halls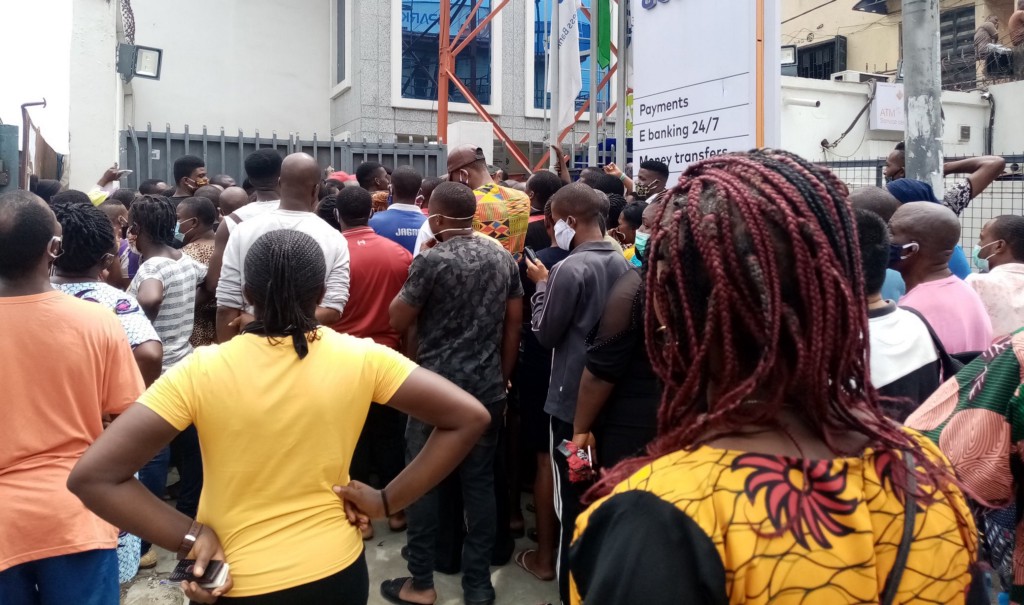 With financial service providers taking major steps to protect staff and customers from COVID-19, this should be the finest moment for DFS!
What no one expected was the barrage of bank customers who congregated at bank branches across Lagos. In Lagos, large crowds gathered and jostled to enter the banking halls with little regard for social distancing protocols.
Why the crowds?
After the lockdown, to ensure safety of their staff, the banks announced diverse operational arrangements — opening a select number of branches each week, occupancy limitations on premises, reduced working hours and curfews — which led to the crowds.
But that's just one part of the story.
— — — — — — — — — — — — — — — — — — — — — — — — — —
It had been over three hours and Babatunde was yet to gain access into the banking hall.
Babatunde, 63, had arrived at the bank a little before 7.30 am to lodge a complaint about an ATM dispense error. His bank account was debited, but he never received cash from the ATM. This error occurred about 2 weeks prior at an ATM located in Lagos. Now, Babatunde was at the bank to report/resolve the issue, but the branch was only allowing entry to two or three people per hour, creating a mass of impatient customers waiting outside.
"The branch closest to my house is not open. They directed me to come here to get things sorted", Babatunde lamented.
When asked why he did not report the problem using the banks' social media channels, he replied, "I don't have social media. I only call with my phone and use WhatsApp."
Babatunde is not alone. A large proportion of bank customers are digital immigrants — oblivious, untrusting and uncomfortable with using digital financial services.
Another customer, Innocent, was also affected, spending hours outside a bank branch on Monday. He was there to make urgent withdrawals from his savings account. He had no debit card and needed to offset his informal loans.
Bank customers rushed to the bank immediately after the lockdown because they were either unaware of alternate channels , or they could only resolve their complaints at a bank branch. Despite introducing digital banking solutions, the bank branch is still integral to service delivery as customers visit disputes and complaints, deposit and withdraw cash, pick up new debit/credit cards, the list goes on and on.
However, the continued reliance on the bank branches contrasts the benefits of digital financial services — the replacement of over-the-counter (OTC) services across all service categories — informational, transactional and relational. Amidst social distancing, the need for digital financial services is all the more important.
So how can this be achieved?
There is no one-size fits all solution. Rather, we need to tackle the situation from different angles. If we're going to decongest the banking halls, banks need to understand why people are visiting their branches by analysing their data.
This is readily accessible data which the branches generate on a daily basis.
Anecdotal evidence suggests that the most common reasons customers visit banks include dispute resolutions, cash deposits, and debit/credit card issues.
The reasons will vary among providers but it is important that banks can identify them.
Improve communication and awareness about alternate solutions
One dimension of the problem is the lack of awareness about alternate solutions. Customers still visit the banks to do things they could easily do via other channels. For example, withdrawing or depositing cash, logging complaints, etc.
Thus, we need to persist in increasing awareness about alternate solutions. Communication should go beyond informing customers, to education and guidance on the advantages of using these alternate channels. Communication should also be continuous and avoid homogeneity — customers are diverse with varying digital and financial literacy capacities and thus need customised communication that speaks to their present realities.
Provide more alternate/out-of-bank solutions
Just as ATMs played a key role in reducing the number of customers visiting the banking hall to make withdrawals or transfers, agency banking has the potential to further reduce the human traffic at banks if properly executed.
We may also need to empower agents to do more than what they are permitted to do. Beyond cash in, cash out services and BVN registration, agents could be empowered to issue and activate ATM cards, cheque deposit, among a bevy of others etc.
Expand and improve complaints resolution systems
Customers are inclined to visit the bank when they have a complaint.
Banks have made some progress in offering complaints resolutions over digital channels.
However, we need to expand and improve these channels to also cater to digital immigrants, the elderly, the physically challenged and those with learning disabilities. While customer service over social media can be relatively straightforward for a millennial, it would prove difficult for the older generation and even those without smartphones.
Understanding the limitations of these resolution channels is also important. How versatile are these channels/ solutions and can they adequately address the range of issues customers are experiencing?
In India, some FSPs offer toll free phone numbers enabled with automated interactive voice response systems. Customers are able to have natural conversations over the phone to log their complaints and have them resolved.
Sometimes, keeping it simple for the consumer is most effective.
Build trust
When the speech is done, what counts is trust. Trust is the fundamental factor guiding the adoption of financial services, particularly digital financial services. We've written before on the critical role of trust in driving financial inclusion. Today, trust is also necessary for customers to adopt new banking products, services and channels. If customers remain skeptical about digital banking solutions, adoption will remain low.
In conclusion
The coronavirus pandemic is a landmark event that has changed human behaviour. It's worth emphasising that decongesting the banks and offering adequate alternatives should be an ecosystem priority. The covid-19 crisis has presented a unique situation that demands an urgent response to ensure lives are protected while continuing to provide the financial services citizens need to carry on their daily lives.
The time for true digital transformation is now.
Professor Olayinka David-West and Ibukun Taiwo and members of the Sustainable and Inclusive Digital Financial Services initiative